In the preceding chapters I have often mentioned Medical Resonance Therapy Music. However, I have deliberately placed my report on this new natural therapy at the end because, for migraine and headache sufferers, it is of general significance in several areas – indeed, in my opinion, it is a useful complement to all forms of migraine and headache treatment.

In the first place, Medical Resonance Therapy Music is a simple and effective means of relaxing the body. Patients generally welcome it, as they find it very pleasant and also it does not require long or difficult learning at all – simply listening and enjoying is all that this therapy requires for best results.

But over and above the very important aspect of bodily relaxation, Medical Resonance Therapy Music, through its natural harmonisation and activation of our subjective inner vital energies – that is the powers of our feelings, our mind and our intellect – is of great significance for the areas which I highlighted in the previous chapters on the psyche and on dealing with trouble and time.

A relaxed, balanced and joyful relationship with our inner energies, which Medical Resonance Therapy Music demonstrates and reinforces within the listener, has a great positive effect on many factors which can relieve or even prevent a migraine – indeed, for very many migraine sufferers, it is one of the most important things they must achieve if they wish to put a lasting end to their suffering.
Here, the regular application of Medical Resonance Therapy Music can be an inestimable help.
The purpose of Medical Resonance Therapy Music® is not to fight an illness, but to strengthen health. It achieves this in that, through the law of the resonance, it reinforces those natural energies within man which maintain and support his health.
The idea of strengthening health using a completely naturally structured form of music is very old and has its roots in the medicine of the high civilisations of the distant past. In our time, this 'classical' path is being again followed to modern scientific standards by the composer Peter Huebner.
According to the learned doctors of ancient times, the natural laws of harmony of the microcosm of music – that is the laws which govern from within the development of tones and sounds – provide us with a true representation of the all-encompassing natural laws of harmony.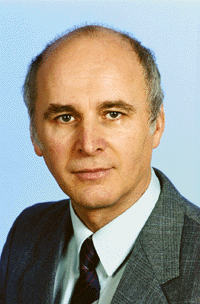 Prof. Dr. med.
Konrad Taubert
studied medicine at the University of Halle and underwent a further four years' study to specialise as a physiotherapist - a course of study which did not exist in the Federal Republic, and which could be described as a scientifically-based training to become a naturopathic doctor.
During his years of study and practice in Halle, Dresden, Bad Kösen, Berlin and Mahlow, he familiarised himself with the naturopathic and modern aspects of his specialist area, became qualified in the areas of manual therapy, neural therapy, acupuncture and psychotherapy in particular and, in 1978, was appointed Senior Consultant at the hospital for Physiotherapy
in Neubrandenburg.
Since receiving his postdoctoral lecturing qualification in 1991, he has been teaching at the Ernst-Moritz-Arnd-University in Greifswald in the specialist field of physio-therapy.
His numerous scientific publi-cations and lectures, which mainly focus on therapy for headaches and cancer without drugs, and particu-larly on health education involving physiotherapeutic selftreatment measures, have brought him international renown.