M E D I C A L R E S O N A N C E T H E R A P Y M U S I C a product of the Micro Music Laboratories leading medicine into the future
application of the natural harmony laws of the microcosm of music in favour of health
Prof. Dr. med.
Ingrid Gerhard

Assessment of Medical Resonance
Therapy Music
Medical Resonance Therapy Music has already been introduced twice at the "Universitäts-Frauenklinik Heidelberg" (university gynaecological hospital by Mr Huebner and medical colleagues from home and abroad during the course of a lecture on holistic medicine in gynae-cology.
Subsequently, I received very positive feedback from women who had obtained this music on favourable outcomes from various illnesses (such as rheumatic pains, heart trouble, headaches, period pains, vomiting during pregnancy etc.). We have results of our own experiences with female patients, who listened to this music post-operatively, or used it in addition to chemotherapy.
The effect was relaxing, spirit lifting, pain-relieving. In the context of cost reduction, further use in our clinic has been planned. In its positive effects, Medical Resonance Therapy Music is absolutely comparable to medicine, and side-effects have so far not been observed.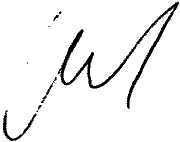 Prof. Dr. Ingrid Gerhard
Consultant of Ward 4.2